Some of Guthrie's greatest champions have had difficulties with the song.
But not everyone sees the song as an anthem for inclusion.
"In the context of America, a nation-state built by settler colonialism, Woody Guthrie's protest anthem exemplifies the particular blind spot that Americans have in regard to Natives: American patriotism erases us, even if it comes in the form of a leftist protest song. Why? Because this land 'was' our land. Through genocide, broken treaties and a legal system created by and for the colonial interest, this land 'became' American land."
Obomsawin's article immediately generated a flurry of responses from conservative media outlets.
But Obomsawin and her conservative critics might be surprised to learn that some of Guthrie's greatest champions have also had difficulties with the song.
While we can't know for sure, a glance at some of his unpublished writings and recently discovered recordings can offer some clues.
Seeger sings a different tune
At the same time, Seeger made it clear that he was sensitive to the theft of Native American lands.
"Jimmy Collier, a great young black singer from the Midwest, was asked to lead ['This Land Is Your Land.'] Henry Crowdog [sic] of the Sioux Indian delegation came up and punched his finger in Jimmy's chest. 'Hey, you're both wrong. It belongs to me.' Jimmy stopped and added seriously, 'Should we not sing this song?' Then a big grin came over Henry Crowdog's face. 'No, it's okay. Go ahead and sing it. As long as we are all down here together to get something done.'"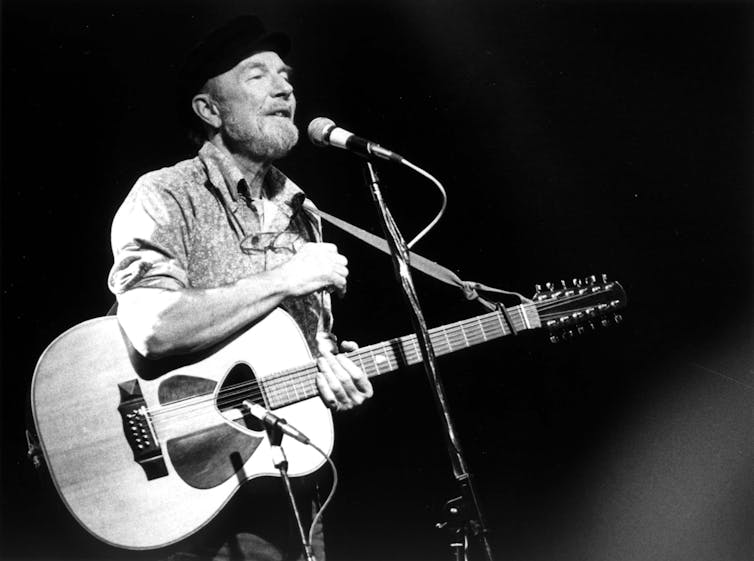 This land is your land, but it once was my land


    Before we sold you Manhattan Island



This land was stole by you from me.





You pushed my nation to the reservation,



Woody wasn't oblivious
Was Guthrie himself uncomfortable with the song's glaring failure to acknowledge the facts of settler colonialism?
There's no record of his views on the issue. But we do know that he was very aware of – and concerned with – the history of Native American dispossession.
"They used dope, they used opium, they used every kind of a trick to get these Indians to sign over their lands," Guthrie says to the crowd.
How did Charley learn these Native tongues? Was it possible that the Guthries had Native ancestors?
And in an unpublished poem entitled "Sweety Black Girl," written the same year, Guthrie writes:

my 





blood beats Spanish and my breath burns Indian and my





soul boils negro. 



Guthrie admitted that he was ashamed of his father's disreputable real estate practices. And while he may have idealized his own genealogy, there's no doubt that he was fully aware of "whose land was whose."
Native Americans see Guthrie as an ally
Interestingly, not all Native Americans view the song in the same light as Obomsawin.
The song has proved adaptable and malleable enough to enable some Native American artists to work with it.
Clayson noted that "Indian Corn Song" was one of his favorite songs to play, because in it Guthrie "talks about wastefulness and how Indigenous people are … living off the planet in a balanced way."
Woody Guthrie might not have been perfect, they say, but we don't need to "cancel" him.
We'll work with him instead.
---